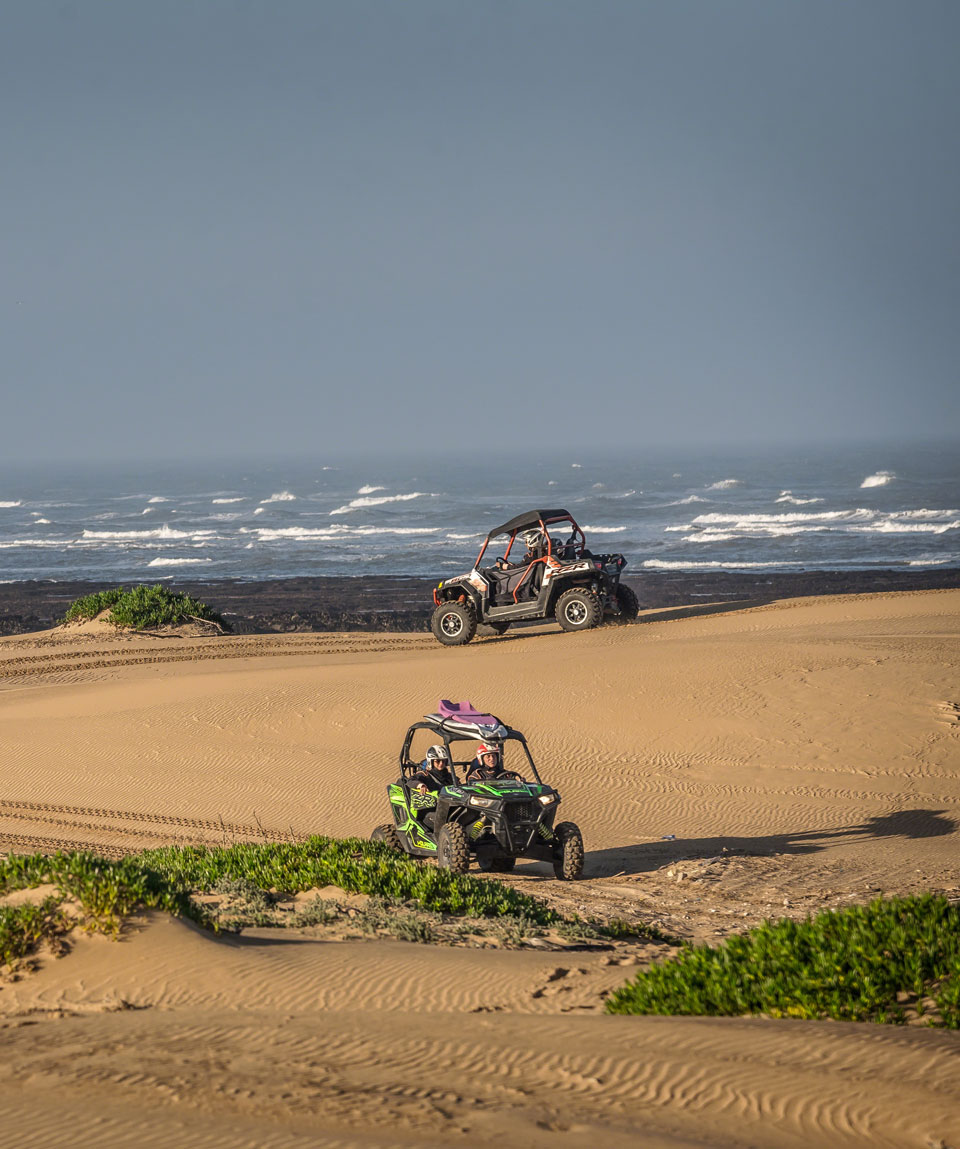 Buggy in Essaouira * Departure from Marrakech

|

1 Day

The price varies according to the number of people. Two people per buggy  

Buggy Trip on Essaouira's Sea Side

Want to discover this special coastal town of Essaouira with a little adventure?

This Premium tour offers you a RZR buggy day in Essaouira from Marrakech in private: buggy in the dunes in the morning, lunch by the sea and discovery of the medina of Essaouira in the afternoon, and even surf lessons on request if the conditions are good! What about a little adventure trip to the sea? Book your ride now!

See the full description below for more details.
Activity Level

Group Size
Adventure in the dunes just by the sea !
Highlights
Ride a buggy in the sand dunes along the sea near Essaouira!
Latest generation Polaris RZR buggies, easy to handle (2-seater)
Surf lesson option available !
Private driver for your transfer from/to your hotel in Marrakech.
Escape for a day and discover the surroundings of Essaouira by buggy – along the sea side!  This is a real experience Dunes & Desert proposes you, perfect for all travelers looking for dunes & adventure.  With a private driver and a comfortable FWD to take you to Essaouira, this is a Premium Tour.
Start early and enjoy this full day out of Marrakech.   Road is comfortable and straight until you reach the sea side where the RZR Polaris buggies are waiting for you.  Starting point is set in an authentic village where children and inhabitants are sharing the street with donkeys.
At arrival, little tea & snack will be proposed, followed then by before handing you over your equipment : coverall, scarf & helmet.
Aiming the dunes,  you'll start by crossing lands full of authentic Argan trees, very typical tree species from this region and real symbol of Morocco!     Reaching the sea side, this is where you will discover your playground : dunes diving in the sea !  Landscapes are amazing and your guide will show you the way for a great and safe tour.    This first part lasts 2 hours.
Lunch in a restaurant with great sea view (à la carte / not included).
After lunch, 1-hour drive needed in the sand again to get back to the starting point.
Surf class option in afternoon is available  !    If not choosen and if time's permitting, you'll be able to make a hook by Essaouira Harbour behore heading back to Marrakech.
This is a once-a-life experience along the Moroccan Atlantic sea coast.
Logistic & Details
This activity is possible all year round. Exact pick up time confirmed by email after your booking.
A minimum of 2 people is required for this activity.
Departure at 7:30am, return at 7:30pm
Buggies are 2-seater side-by-side.   Always 2 people per buggy. Price is per person.
There is one buggy 4-seater available on request. Contact us for a tailor-made quote.
Minors under 16 must ride as passengers.
Minors 16 and over require parental waiver to drive a buggy.
The transportation in between Marrakech & Essaouira is private, but the outing in buggy is shared with other participants.  Make sure to be on time at departure.
Option with a surf class available!  Possible to book it during the second step of your booking, in Extras.
To know * This tour doesn't have instant confirmation yet. You will receive a confirmation within 24 hours after your payment.
Good to know
Don't forget to bring your ID (passeport or driving license).
Have your camera with you for great snapshots or serious photography.
We recommend you wear closed shoes, comfortable clothing, sunscreen and warm clothes for winter sunshine. To best enjoy this experience, we suggest you respect local customs and avoid wearing shorts or skirts.  And a windbreaker !  Essaouira is the city of the Wind!
For your peace of mind, we recommend you check you have a personal all risk insurance with repatriation option (If needed, this link may be helpful if your actual insurances don't cover all activities)
What is included in this tour?
Items that are included in the cost of tour price.
Pick up from & return transfer to your hotel/riad (or closest parking) if in Marrakech or less than 5km from the center) in Toyota Land Cruiser A/C with English speaking driver
Polaris RZR Buggies full automatic 800cc, 2-seater.
Helmet, glasses, coveralls and gloves at your size.
An English-speaking professional guide
Whats not included in this tour.
Items that are not included in the cost of tour price.
Fresh lunch by the sea (A la carte menu).
A surf lesson in the afternoon on request and according to the weather (in this case, no visit of the medina of Essaouira, and a return to Marrakech around 20:30)
Tips and extras
Individual risk insurance.
FAQs
Prices displayed on our web site include a private car in between Marrakech & Essaouira, but the outing will be shared with other participants.  If you'd like to share with no other, thank you for contacting us at info@dunesdesert.com to get a personalized quote.
A later departure is in general not possible because you'll have an apointment in Essaouira with other participants.  If you'd like to start later, thank you for contacting us at info@dunesdesert.com to get a personalized quote.